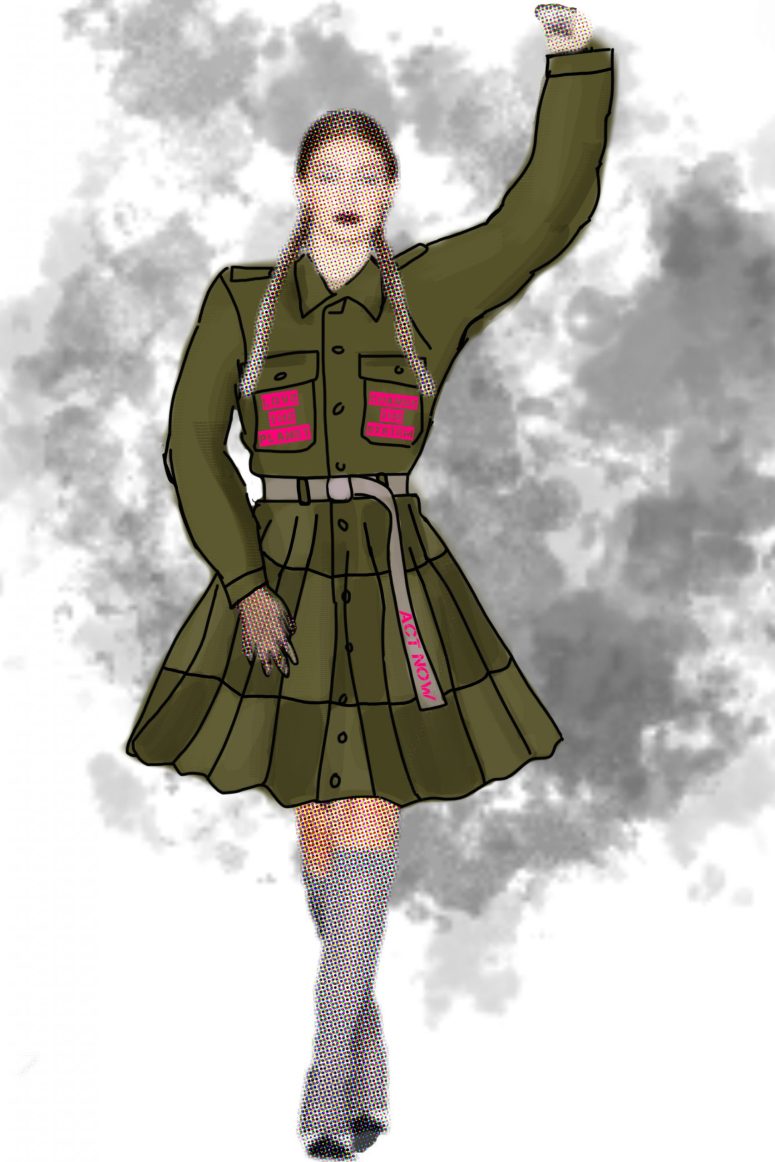 This is not a drill
Wear the change. Strong, feminine outfits made from second hand military clothes showing of powerful quotes to inspire people to take action. My collection is inspired by Extinction Rebellion. Extinction Rebellion is an international movement that uses non-violent civil disobedience in an attempt to halt mass extinction and minimise the risk of social collapse.
We have to take strong actions to reverse the climate change
I applied reconstruction in my designs. The top halfs of the outfits are made from military jackets with alterations to the bottom part. In the dress design I used a patchwork of jackets to create the circle skirt. In the other design you see a short cropped version of the jacket. The pants are altered to have a slimmer fit and a peplum detail made from the jacket is added. In the outfit with the skirt the same peplum detail is added to the jacket. The skirt is made by opening up the legseam and sewing a patch in between.

I used vintage military clothing to create my collection. The material didn't have to be produced in order to create the collection. The printed quotes are printed with water based bio friendly inks. For this reason the collection has a low impact on the environment.
The military clothing is very sturdy, so it will last a long time. The army green color is a classic and timeless color. The garments can be worn as a set but can also be combined well with garments from outside the collection, making them very versatile.

The vintage military garments are all made of 100% cotton, which makes them very easy to recycle because it's a mono material.
There are a lot of second hand military clothes available. My designs can be applied to different styles of jackets and pants.